Updates and the Current Situation
UK Government COVID-19 Winter Plan
Published 23rd November 2020 | Read more here
Department of Media, Culture and Sport guidance on volunteering during COVID-19
Published 13th November 2020 | Read more here
National Restrictions - November - December 2020
Warrington is currently part of the national restrictions.  
Published 31st October 2020 | Read more here.
NAVCA Guidance: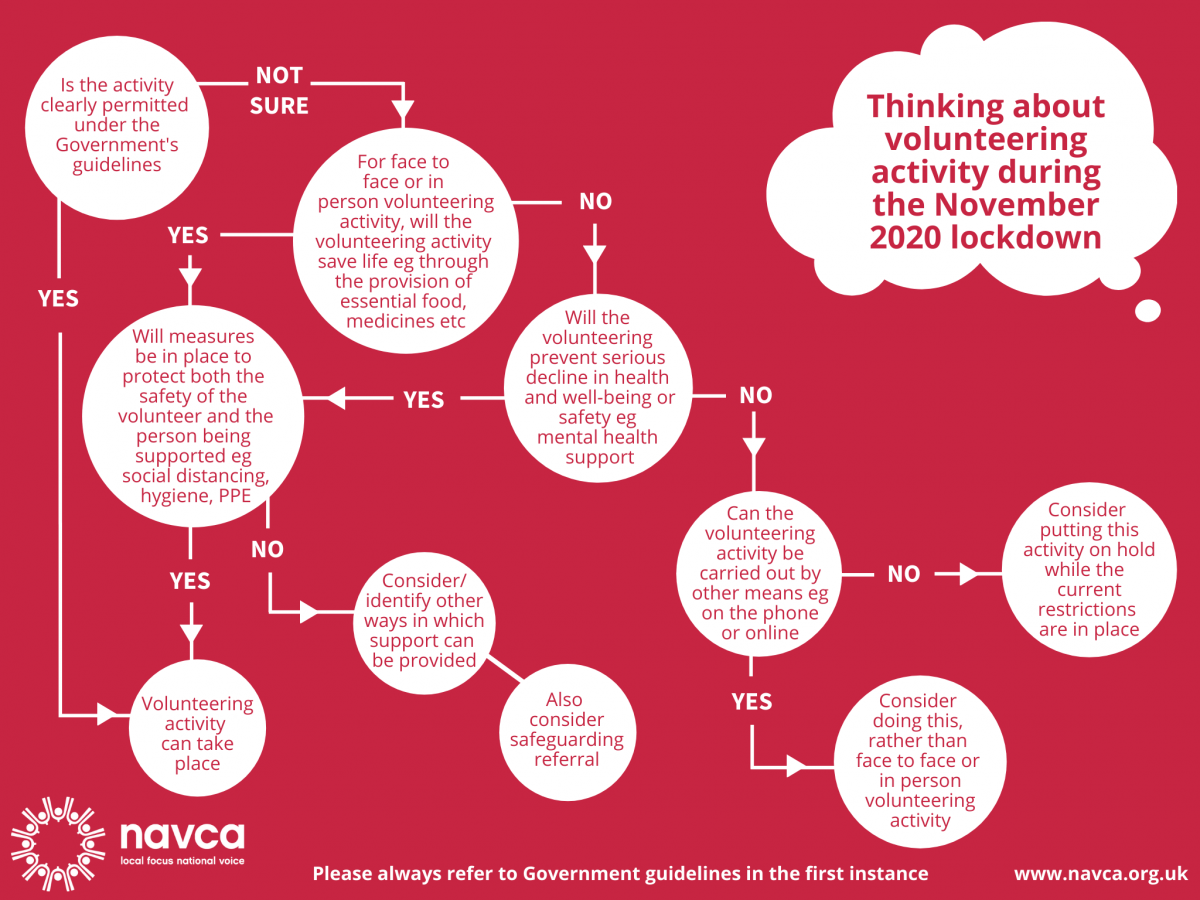 Moving Forward
Before considering all these steps, make sure that you are following the national guidelines of what you can and cannot do.
If you are looking to plan, we have compiled these pages working on information that was correct in early June 2020.  They are very much about getting your planning started and acknowledging the time it could take to consult with members, apply for funding and restructure sessions.
Here are some links and guides that we have found to support organisations as they return to delivering services.  Although the title or target audience for the guidance may not directly apply to your service, the advice and tips may be useful to consider as you could utilise the ideas in your work.  It has been compiled in good faith and will be updated when possible, cross-reference with another source for further clarity if you wish.
Always work with your venue or building management when planning your protection measures.  Do your own research and seek advice if you are unsure.
Documentation
You will need to create a risk assessment of your use of the space, consider the building 'flow' and work out what measures and signage you may need to provide.  You can also explain and reflect the measures you have put in place through a specific policy.  You should collate all of your information in a safe working guide.
You can explore our Reopening Things To Think About page. Watch our guide to making a return to services video for users.
The Government has pulled together information for the safe use of multi-purpose facilities.
For the purposes of this guidance, the term 'member' is used for beneficiaries, service-users, clients etc.
The Government has created infographic posters explaining the levels you may find useful.
If there is information on a particular topic that you can't find here or anything you think might be useful to other groups, contact Bryan
'New Normal' FAQs
Will we be able to all meet again before there is a way of controlling COVID-19?
Will we have to split our group and meet at different times?
How do we deal with splitting the group?
How do we pay for the group to meet at different times?
What hygiene measures can we put in place to keep everyone safe?
How will we social distance when we are restricted to the venue/room that we use?
Face Masks and Face Coverings
The World Health Organisation (WHO) Guidance - when and how to use masks
UK Government Face Coverings - when to wear one and how to make your own
BBC - a user's guide to face masks
Cleaning and Preparing Spaces
5 Steps to Working Safely - Some considerations for bringing people together to deliver services or activities.
Working Safely Guide - The Health and Safety Executive have gathered some advice on cleaning, social distancing and working practices.
Guidance for Non-Clinical Settings - A range of Government guides for different industries.
Planning and Restarting Sessions
NCVO Guides for Community Organisations - Guidance and resources during COVID-19.
Post COVID-19 Planning for Community Organisations - Questions which are relevant to think about or to offer a framework or checklist.
Recovery Self-Assessment Framework - Looking beyond recovery to redesign and reform – hoping to #BuildBackBetter. 
Communications and Temporary Lockdown - Keeping your people informed should changes need to be made.